In Keane's 'Count Your Blessings', the reader relives the moments immiediately following a particularly lengthy free-basing session by Mommy and Daddy. A tragic moment that led little Jeffy to put crack into their pipe, leading to a predictable result. Brain damaged from impure crack, little Jeffy suffers from profoundly debilitating spirtual visions and has trouble speaking coherently. Daddy is thrown in jail for contributing to the delinquency of a minor, trafficking, theft, procurement, break and enter, and littering, and while imprisoned, is savagely and repeatedly raped by a long succession of supremely well-endowed inmates, guards, wardens, lawyers, priests, rabbis, psychiatrists, members of the media, uncles, cousins, friends, nephews, congressmen, senators, Marion Barry, Richard Pryor, John DeLorean, and George W. Bush.
This is an excellent start to Bil Keane's Gay and Lesbian Porn series. 'Count Your Blessings' is the first book in the series, and Keane has promised that if sales are encouraging, more books will come out. In the book's foreword, Keane writes:
"Ever since I first started drawing comics, I was intrigued with the idea of a gay and lesbian-porn series of comic books, but the idea was always at the back of my mind. My wife was always enthusiastic about the idea, but whether it was laziness or fear of its rejection, I just never started. But recently when my kids joined with my wife in pushing me to draw some porn, I thought, 'What the hell, people are much more liberal these days, I'll give it a shot.' And so, after three or four snifters of cognac, I got out my pencils and papers and set to work. I hope you won't be disappointed."
Readers won't be disappointed if every book in the series is as good as this one. The goals of this series are to:
"1. Present gay and lesbian pornography that is tasteful, a book you wouldn't be embarrassed to read on a bus or leave on your coffee table.
2. Present safe sexual practices.
3. Present a positive message to gay and lesbian youth. It's OK to be queer.
4. Present a celebration of sexuality.
5. Present porn as a way to comment on the evils of society."
This book easily achieves all of its goals. The sex is explicit as all good pornographic comic books should be, its drawings never given to merely titillate, but are integrated gracefully with the plot, mood, characters, and motivations of the characters. And while Daddy is always brutally raped, all of the assailants always wear a condom. I've seen students at SDSU with pornographic comic book collections that exceed 16,000, and this one is easily within the top twenty per cent.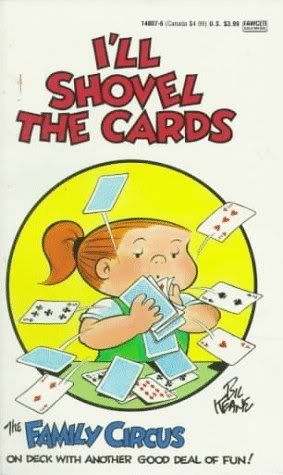 "I'll Shovel the Cards" is undeniable proof that Keane is thegreatest artist/author alive today. The title alone had me hyperventilating with raucous laughter for I don't know how long. This book, like all of Keane's work, whisks me away to a magical place, where I like to pretend that I am Jeffy, and I endlessly relive the timeless comic in which Jeffy reveals to Dolly that he doesn't like to kiss Daddy on Saturday morning because Daddy's face is scratchy. How true that is! It's as if Keane has some technologically advanced cloak of invisibility, and moved undetected about my home during my childhood -- every comic is a literal reenactment of a scene from my early youth!
Guys, this is an essential buy. Before "I'll Shovel the Cards" I was a nobody, a loser, a lonely, pathetic man with no one to hold me. Now, by simply repeating "I'll Shovel the Cards" puns at strategic moments in bars or at bus stops, I have become every woman's treasure. What a blessing this book has been. I give this literary triumph 25 stars!